Spotlight has evolved from its humble beginnings as a market stall to become a dynamic international retailer with outlets across four countries.
Spotlight's chain of craft, fabric and home interior superstores is Australasia's largest and our unique offering of an extensive product range, coupled with knowledgeable Team Members and a one-stop shopping destination, has cultivated a strong and loyal customer base.
Spotlight's remarkable success has been more than 40 years in the making and owes much to the values of the company's founders, brothers Ruben Fried and Morry Fraid, who were committed to investing in people, success and excellence.
Those values continue to provide a solid foundation for a thriving international company that has become an employer of choice for those seeking a challenging and rewarding career in a fast-paced global retail environment.
As a global retailer, Spotlight is in a unique position to offer a broad range of exciting career opportunities.
Love our products, enjoy customer service or the logistics and administration side of business? We have positions for you.
Relish working with a close knit team within your local community with flexible hours to suit your lifestyle? We have stores throughout Australia, New Zealand, Singapore and Malaysia.
Keen to work for a company that will help you forge a rewarding career path? Apply now.
Do you have the passion and drive to work at Spotlight?
Whether you are looking for a job or a career, we have a range of opportunities to suit your skills and interests.
To find the role that's perfect for you, view the options below.
In-Store Careers
Our In-Store opportunities suit
those who love interacting with
customers, are passionate about
our products and thrive on the
fast pace and challenges posed
by a retail environment.
Support Group Careers
A Support Group Team
position is perfect for those
with the skills to provide
support, guidelines and
leadership to our large and
growing store network.
Spotlight is a fantastic company full of opportunities. Starting as a DTL, moving into Store Manager and then on to a Regional Manager has been extremely rewarding.
Watching our business expand and prosper makes me
feel extremely proud to be part of it.
– Julie-Anne Perigo, Regional Manager
I joined Spotlight as a Store Manager 2 years ago,
I love working for Spotlight. The autonomy of 'owning' my 4 walls and making decisions to drive a multimillion $$ store forward with a group of the most supportive, creative (of course) and approachable leaders is rewarding.
– Rebecca, Store Manager
Seize the opportunity to work for a leading global retailer.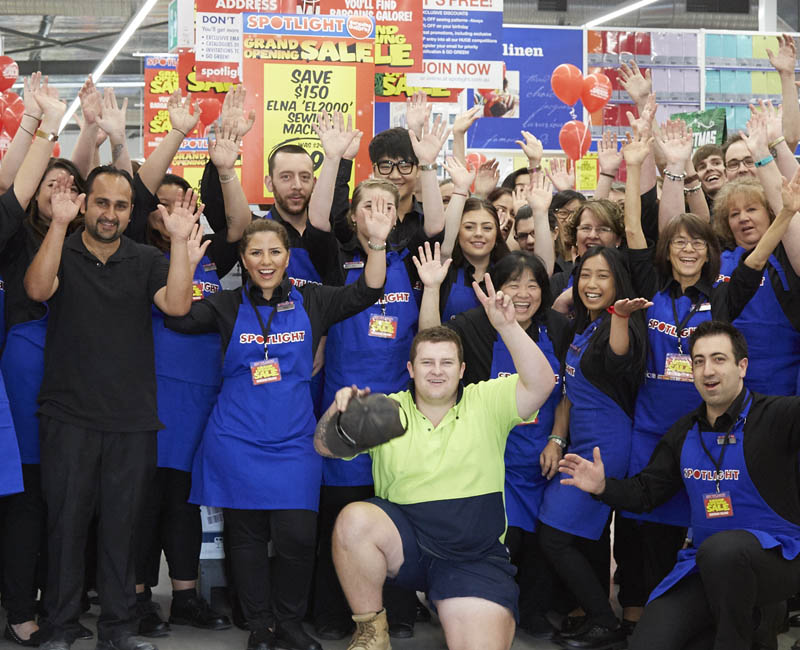 Walk into any of our stores and you'll notice there is something special about our Team…from the Casual working a couple of shifts a week to pay their way through university to the Team Leader who has returned to the workforce after raising her family.
No matter their role or background, our Team Members share a passion and commitment for our products, to providing great customer service, and fostering a rewarding work environment.